Where are the shirt supplier in Singapore? Shirt suppliers near me? Best shirt suppliers in Singapore? To help you with finding the best shirt suppliers in Singapore, we've put together some high quality shirt supplier options. For the companies who are looking to purchase uniforms for their personnel out under the heat on the sunny island of Singapore, it'd be wise to purchase a good quality and comfortable polo t-shirt. These retailers produce the most comfortable shirts that keep you cool throughout the day.

We've already gathered some of the best shirt retailers in Singapore and each one of them produces shirts of different materials for your needs and is cost-effective! So, take a look at our list below to know more about their offered shirts.
If you're looking for a shirt company that provides the most comfortable and high-quality polo or round neck shirts, then you might want to check out ECEmbroid, tagged as one of the best t-shirt suppliers in Singapore. They offer both cotton and dri-fit material in long sleeve and short sleeve. They even offer you the best advice to ensure that your shirt fits you well!
Not only that, they provide other various services such as corporate embroidery and printing services.
All of its services are done by its team of professionally trained printing and embroidery staff who have vast experience in personalized products.
Interested to know more? Give a ring to their hotline to get a free quotation!
Highlights
Quality Product
Professional Service
Fast Delivery
Customer Reviews
Here are some customer feedbacks to show that they are truly the best black security shirt supplier in Singapore:
"Friendly and professional staff that delivered products beyond our expectations. Shirts are really comfortable and can be compared to higher end brands. Nice embroidery and superb printing quality."
BEST FOR
Quality Product, Professional Service, Fast Delivery
SERVICES
T-Shirt Embroidery, T-Shirt Printing , Personalized Shirts, Corporate Gifts, Security Polo Shirt
WEBSITE
https://emilycamping.business.site
ADDRESS
505 Beach Road Golden Mile Food Centre #02-123 & #02-131
Singapore 199583
CONTACT DETAILS
Mobile: +65 9010 0862
Email Address:

[email protected]

OPERATING HOURS
Monday – Sunday : 1:30pm – 9pm
Emily's Camping & Industrial Supply is one of the pioneers in the industry which provides the most value for money short sleeve shirts of absolute unbelievable quality.
Their staff are extremely friendly and knowledgeable in their field, offering you the best advice in selecting the best material shirt for your needs.
Highlight
20 years of experience
Professional team
Best quality
Customer Reviews
Here is what their customers have to say about their services:
"The aunty was very very helpful. If you need shirts /sewing services/army needs/camping gear, this is the place to be! Thank you for your service! You are a lifesaver 👍👍" – Keefe Tan
4. Brighten Uniforms Pte. Ltd.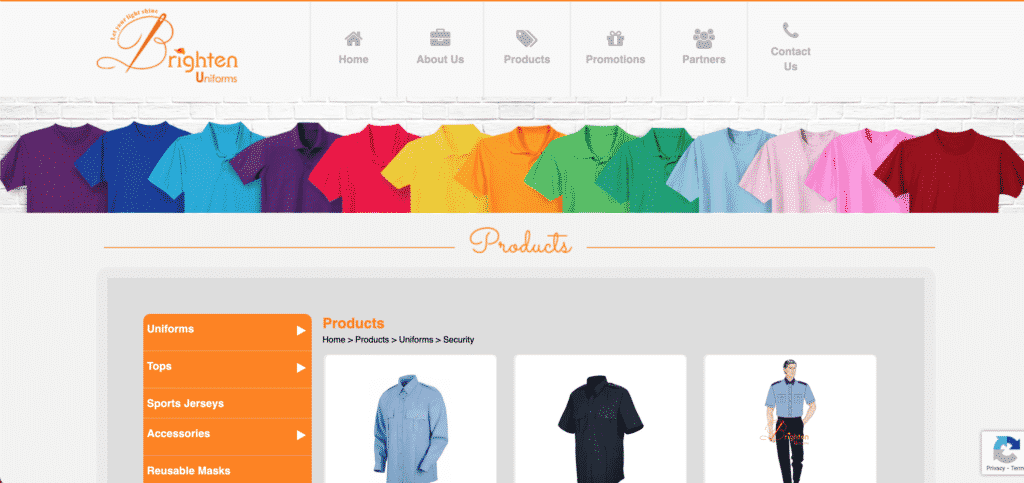 Brighten Uniforms Pte Ltd is a one-stop service for uniform manufacturing which provides good quality customized and ready-made T-shirt, uniform, occupational clothing and many other types of garments including accessories for men and women.
Highlight
Good Quality
Wide Variety
Good Service
Customer Reviews
Here is what their customers have to say about their services:
"Amazing quality" – Ranjodh Singh
5. Chin Bee Pte Ltd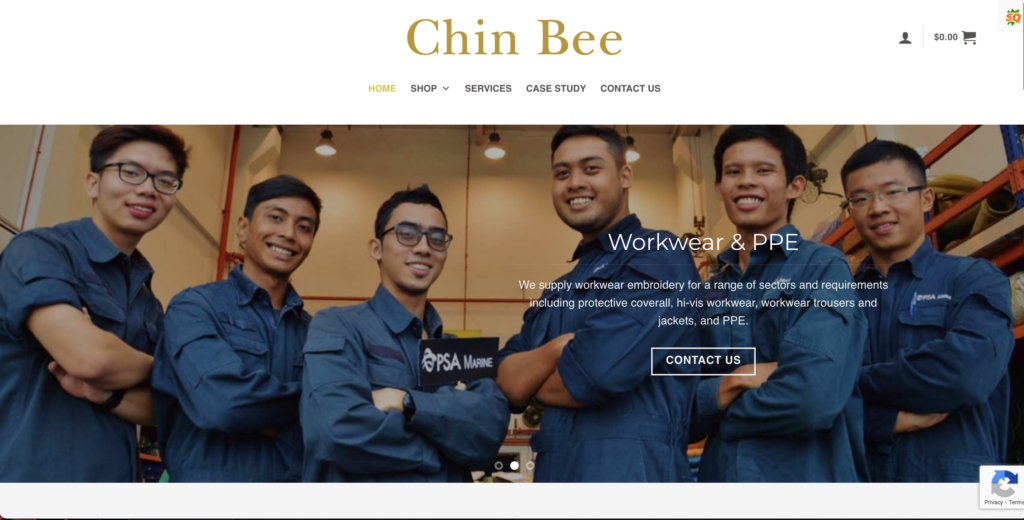 BEST FOR
Tailored Uniform, Good Service
SERVICES
Uniform
WEBSITE
https://chinbee.com.sg/
ADDRESS
153 Kampong Ampat
Jun Jie Industrial Building #04-01
Singapore 368326
CONTACT DETAILS
Mobile: +65 6296 7966
Email Address:

[email protected]

OPERATING HOURS
Monday – Friday 9AM-6PM.
Saturday Closed.
Sunday Closed.
At Chin Bee, they provide high quality, customized staff uniforms and workwear for your business.
Highlight
Tailored Uniform
Good Service
Customer Reviews
Here is what their customers have to say about their services:
"Good Uniform" – Virginia Tang
We hope that this list of best bulk shirt suppliers in Singapore helps you to decide where you get the comfiest and value-for-money shirt for your daily attire!
This affordable Japanese clothing chain has been a top favourite since its arrival here, from lightweight basics to spiffier outfits. You'll find a great assortment of men's shirts – including winter options for colder climates.
With more than 20 Cotton On stores located across Singapore, this Australian store – which has stores in over 12 countries – has a wide-range of different shirts for men, at a very affordable price.
This Singaporean online shop as a huge list of brands of the latest fashionable shirts any man would need. You don't even have to leave your house to make a purchase!
This locally-based label makes shirts out of 100% organic cotton, making them great and suitable for those with allergies or sensitive skin. They also practises a sustainable and socially-conscious production process while providing you with the most comfortable basic tees.
This menswear label focuses comfortable, everyday fashion that's made in Los Angeles and founded by the folks behind café and retail store Monument Lifestyle. You can shop the range at Monument Lifestyle (75 Duxton Road) or online at duxton.com.
Want more? See our Reviews section!